Eagle Center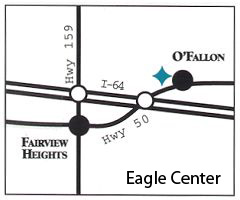 Eagle Center is Southwestern Illinois' premier office address.

Offices from 300 to over 12,000 square feet exist - all in a mature landscaped environment.

Wooden decked porches lead to the office entry.

Numerous parking lots are scattered throughout the community to allow ample parking and easy and close access to one's office.
Eagle Center is a unique office and professional community.
Its buildings are built among graceful maturing trees and bushes and have a residential appearance.
Located just 1/4 mile north of I-64 at the O'Fallon, Hwy 50 exit and just one mile north of I-64 at the O'Fallon, Green Mount Road exit.
Eagle Center is strategically located to serve small, medium and large companies.