Williamsburg Center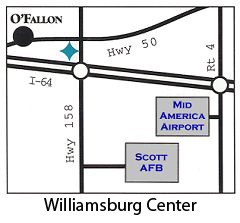 Located just off I-64 at the intersection of Highway 50 and Highway 158.

This office community contains nine buildings with one more slated for construction.

Custom configuration of offices 1,000 to over 12,000 square feet is possible.

Complex electronic needs including secure and / or environmentally controlled work spaces are currently being provided for clients.

Such custom needs are offered to all long term clients.
Its strategic location is just minutes from O'Fallon and Scott Air Force Base.
Perfect for companies needing quick access to the base and major thoroughfares.